Overview
One European client urgently wanted to launch a startup company centered on a high-concept inaugural E-bike product. They shopped their idea to a consortium of manufacturers and were rejected by one after another — until reaching out to MerryGo. They pitched us on a single hand-drawn product sketch and one ambitious dream.
Challenge
The proposed product was a marked innovation in its expansion of typical E-bike attributes. The client insisted on a product boasting long-range travel, a sleek aesthetic, and advanced built-in functions like real-time GPS tracking, battery capacity notification, an anti-theft alarm, wireless charging, telematics data capturing, and more. To heighten the stakes, all prototyping had to be completed in a tight time frame to meet the launch schedule of the client's crowdfunding campaign — a mere six months away.
Result
MerryGo worked to fully actualize the client's concept, which became the bedrock of a successful crowdfunding campaign that raised over 500,000 USD in less than one week. The success of the crowdfunding campaign allowed our client to attract further angel investment in 2020 and place themselves firmly in the small business hyper-growth stage.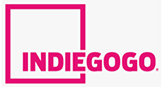 How We Did It
We took responsibility for our client's vision, internalized the requirements of the product, and made it our personal mission to bring this E-bike into existence. Beyond providing design and engineering solutions, we advised the client on optimization, mass production, and international logistic fulfillment — all the considerations needed to create a sustainable business venture. Our involvement streamlined the manufacturing and logistic process so our client could focus on growing the company.